This is a detail we carried out late last year. This Solid Black 2012 991 was booked for a full correction by one of our trade clients after spending the last 6 months as a demo car. Prior to it going to its new owner we were asked to restore it to its former glory, the brief was simple, Its a £90k car, it needs to look like a £90k car when its collected.
As you can see from the before pics, look ok to the naked eye, but once under the lights it was a whole other story. On with the before pics, on arrival. Just to note the plates havent been blanked as the cr was getting a cherished reg applied prior to collection.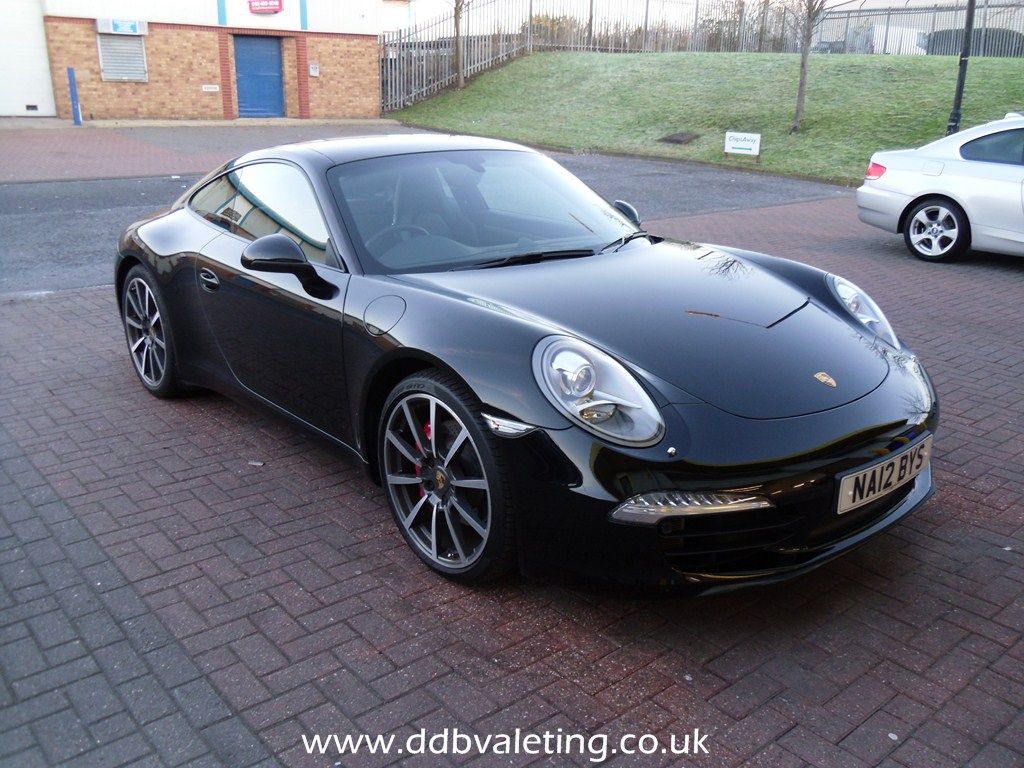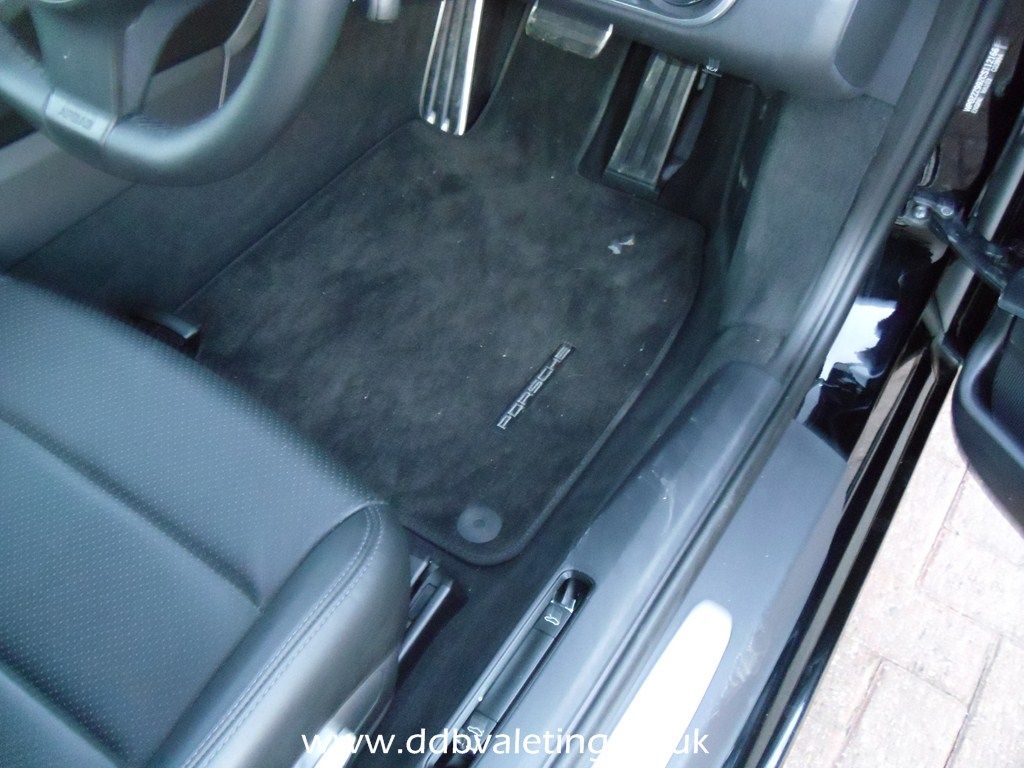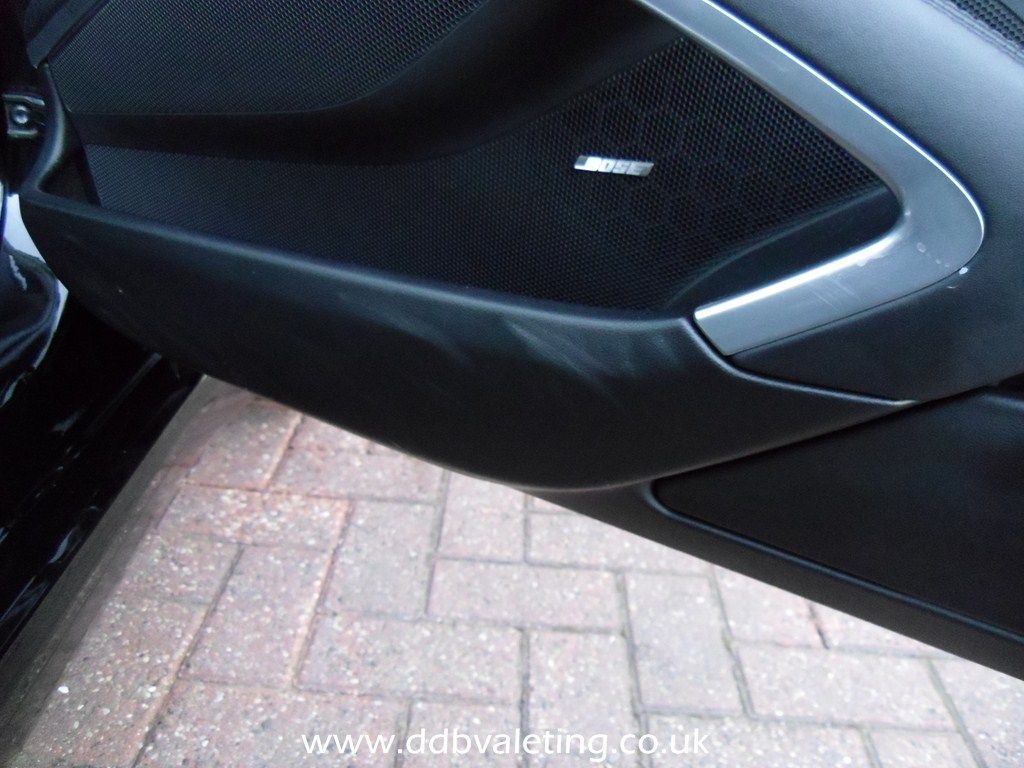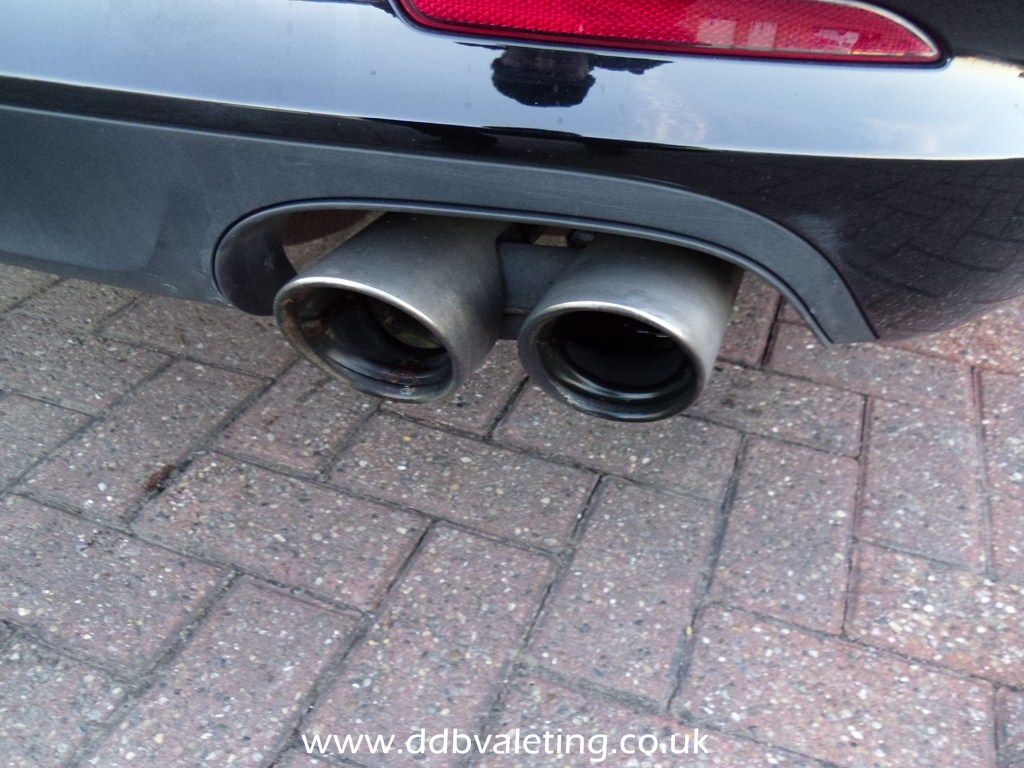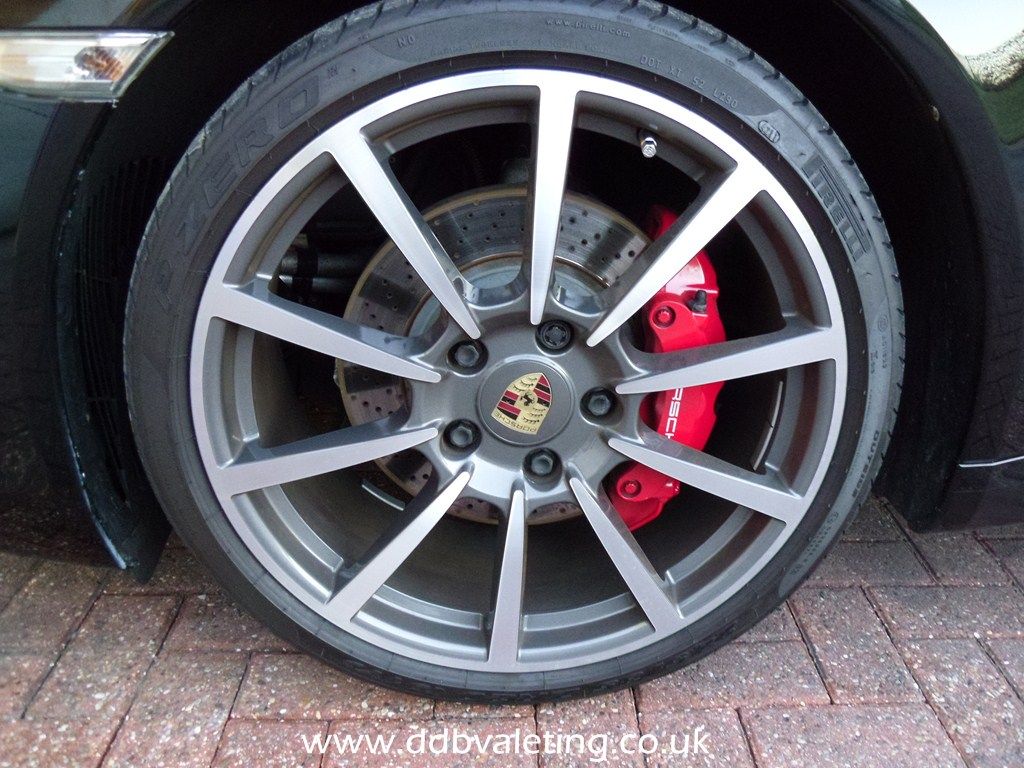 As you can see it was grubby, but nothing that cant be addressed. So on with the obligatory wash stages, Snow Foam first.
Brush and APC mix used into all nooks and crannies and grilles etc.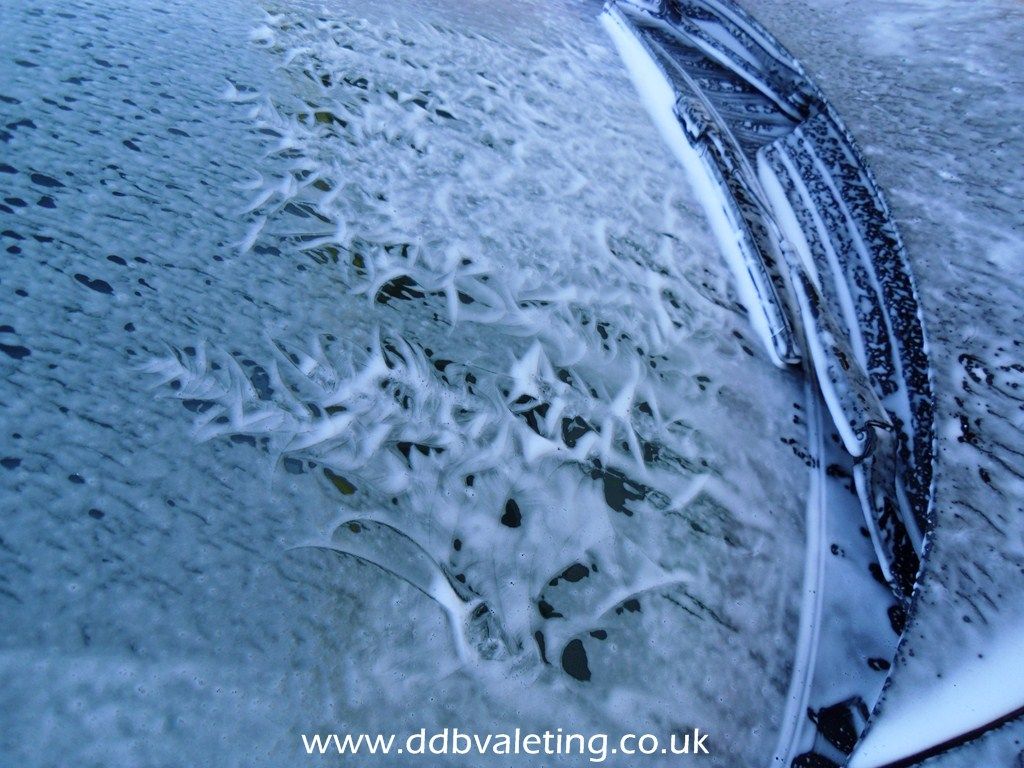 As you can see from this photo it was a tad cold on the day of the detail!!!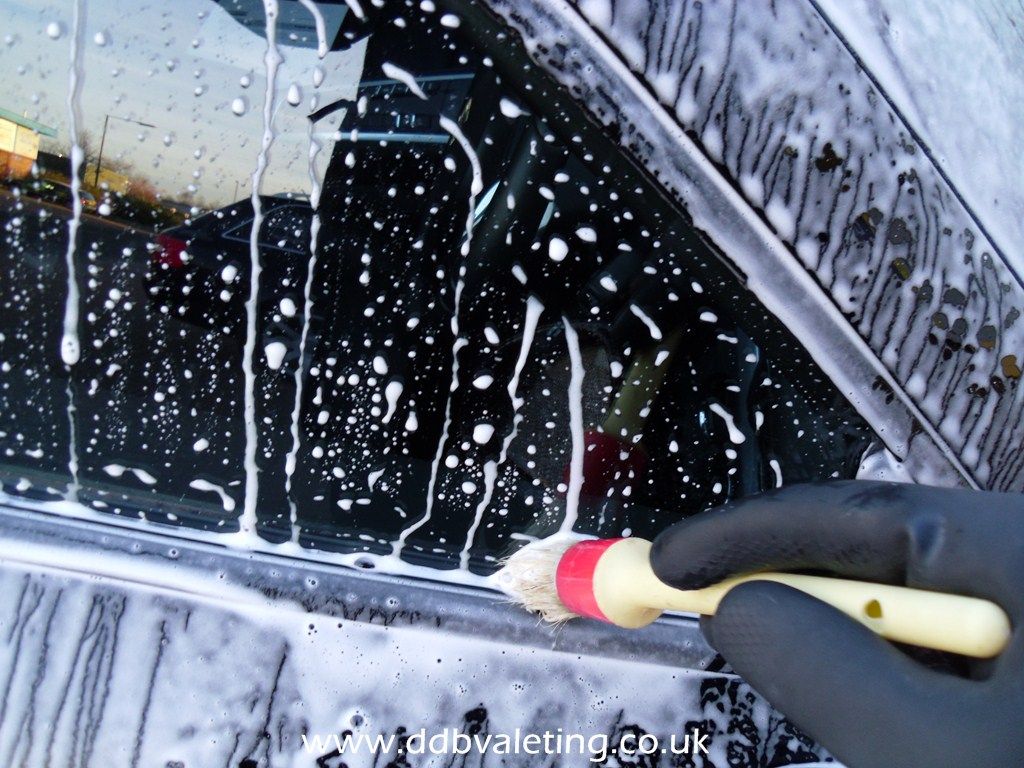 Too cold to hang around for more pics of wash and decontamination stages, 2 bucket wash used, follwed by a liberal treatment of Iron X and Tar remover, and then a clay bar. Wheels also cleaned with Non-Acid Wheel Cleaner, various brushes and also treated with Iron X.
Car pulled inside at this point, unit heating put on full and my fingers put in sink of warm water to defrost!!!
Taping up was done prior to polishing, and inspection under the lights. This is where the fun starts.....
Rear Quarter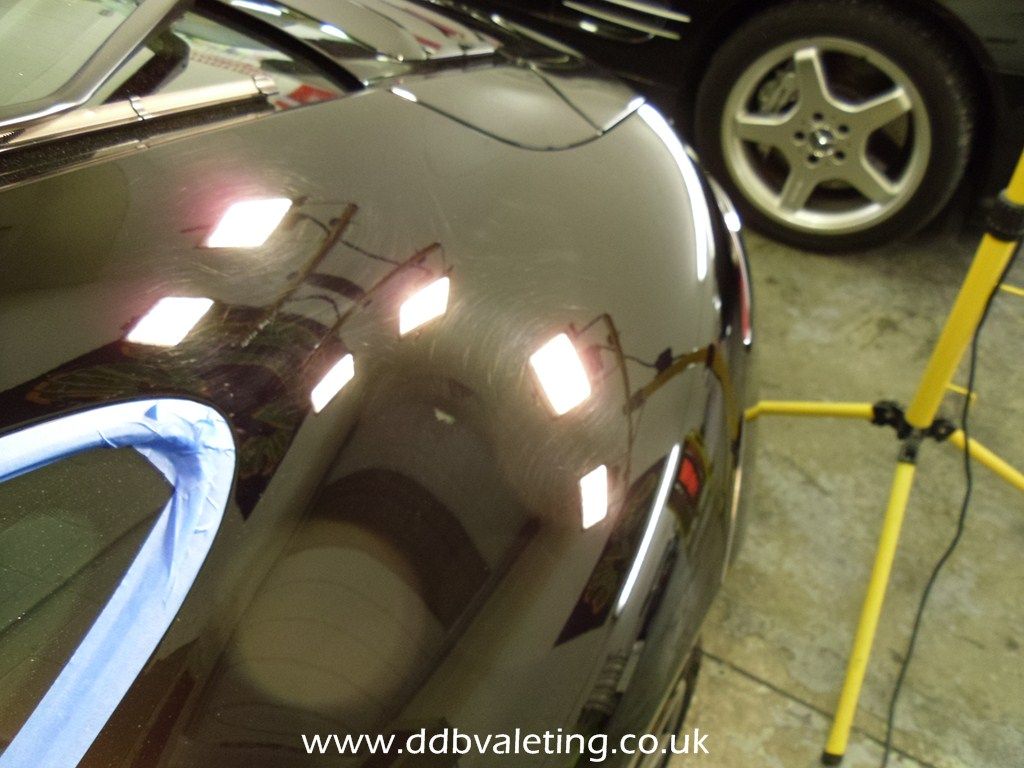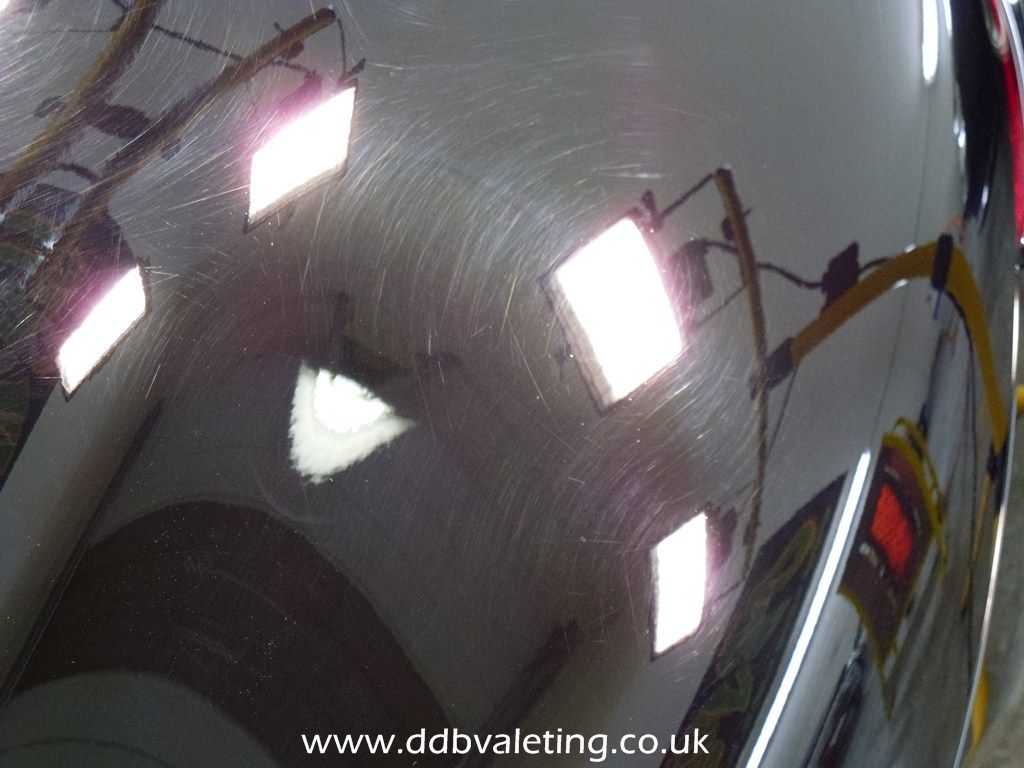 Rear Spoiler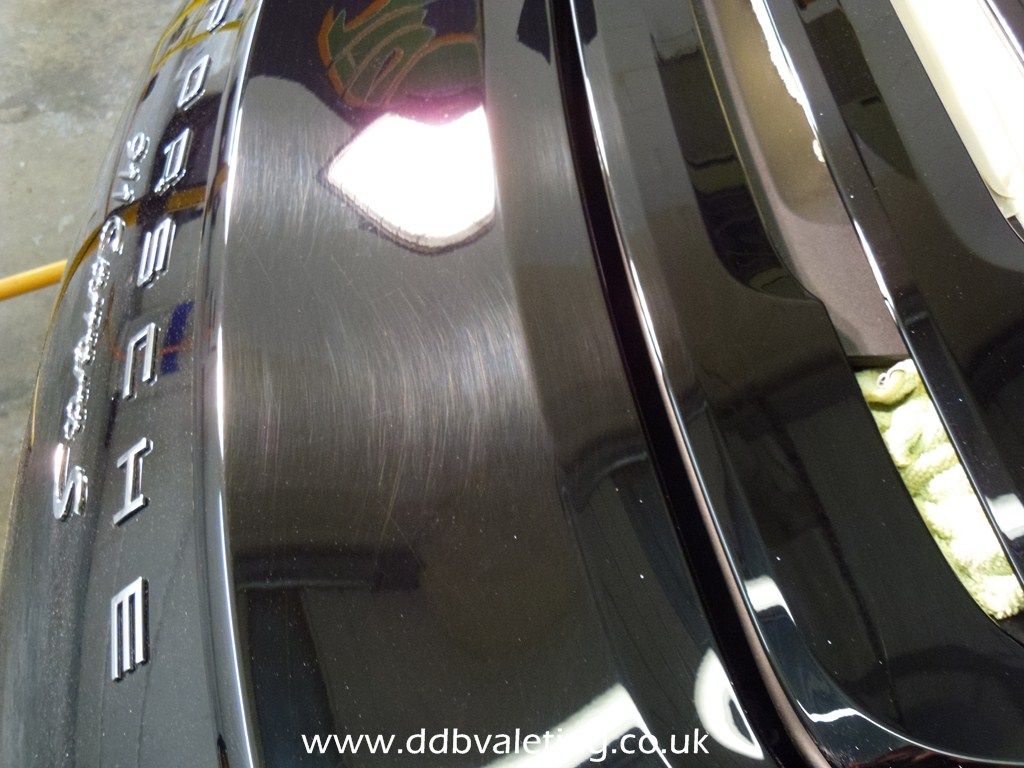 Front Wing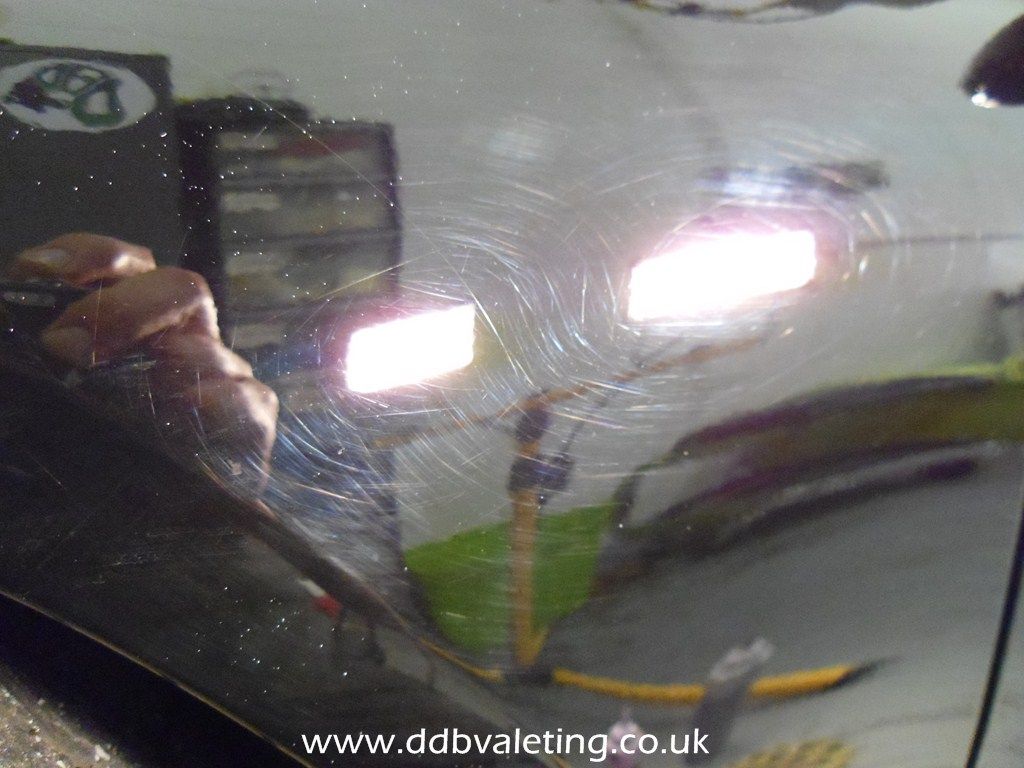 Bonnet
So the polishing started, it never ceases to amaze me that Solid Black will marr even with the softest of MF cloths, yet it will take a full 3 stages of polishing and refining to correct it to an acceptable standard!!! Polishing duties as always taken car of with Scholl Concepts range of polishes and 3M pads. Polishing went on late into the night fuelled by Red Bull, Chocolate and Country Music on the iPod!!
Some 50/50s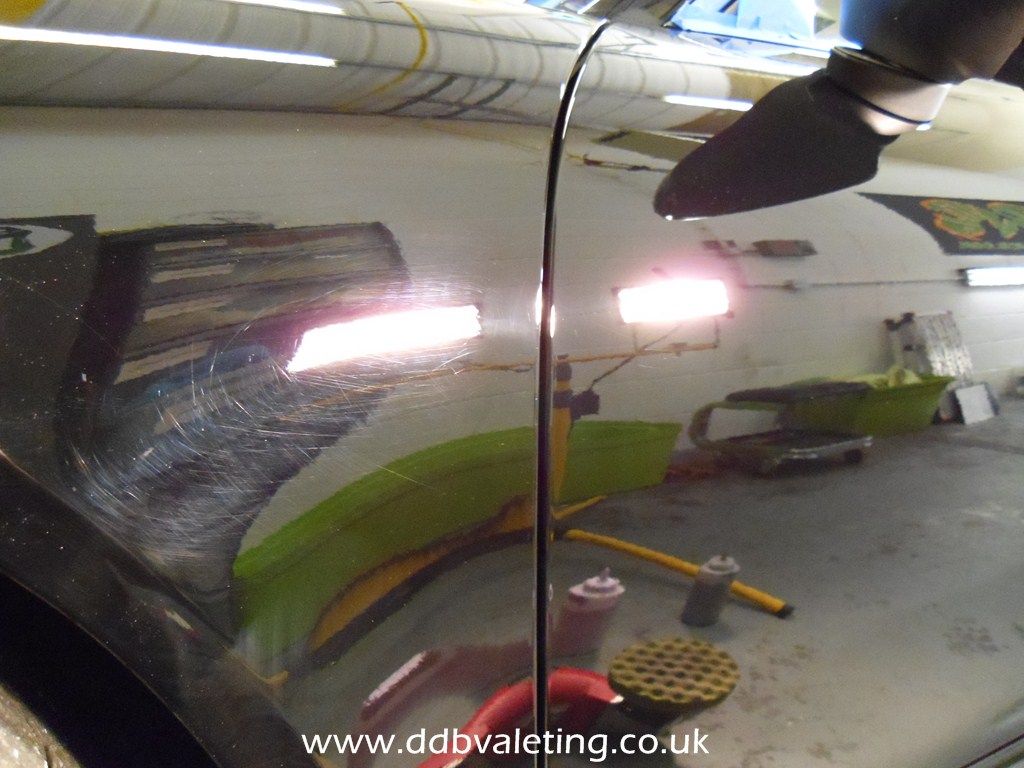 Some finished panels, lots of dust still present in the air and on the panels.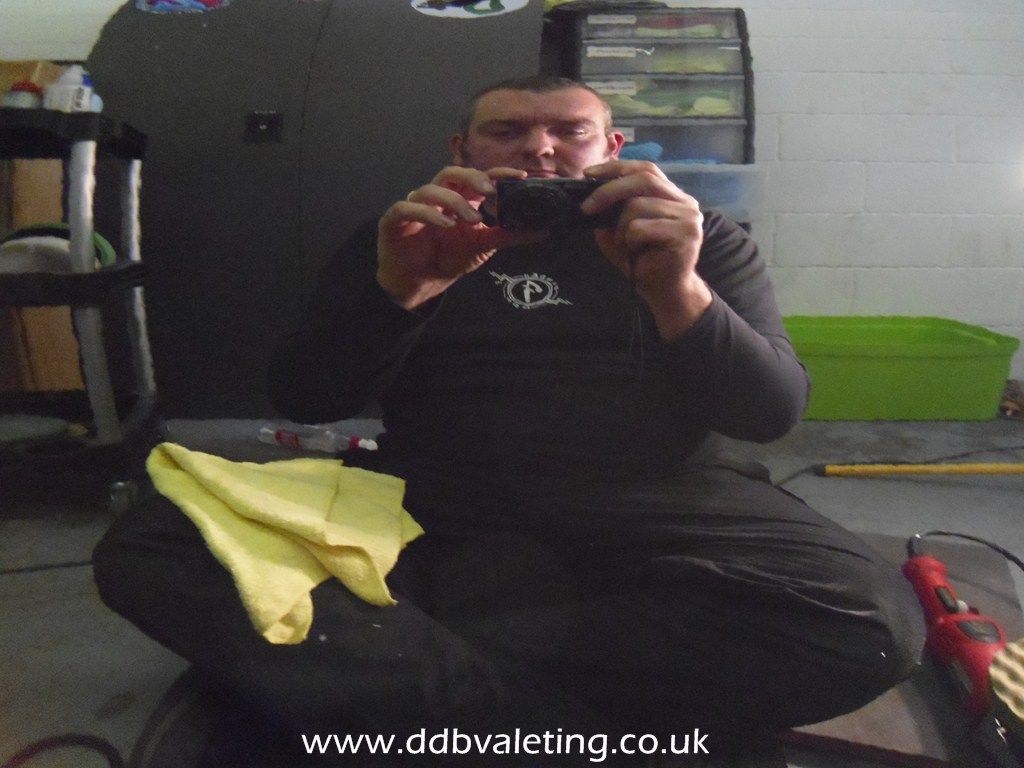 Polishing was finished late on the friday night, in total approx 19 hours of polishing took place on this one. Hardwork and very cold!!! While I had been cracking on with the polishing Mrs DDB had been fettling the interior. Full vac, followed by a deep clean of the leather and a treatment using gTechniq L1 on the seats, and Matte Dash on all the plastics. All mats were removed and scrubbed and then protected using gTechniq I1.
On the saturday morning thankfully temperatures had risen a bit, so outside we go and another snow foam treatment was used to remove the polishing dust from the car. Open end of a hose used to sheet water off and then it was patted dry using a brand new fluffy drying towel so as not to inflict an more contact than was absolutely necessary.
LSP of choice today had to be something wasy to apply, while giving a cracking finish and shine, and max. Durability. With this in mind the car was given 3 coats of gTechniq C2 v2. This product is unbelievable, the finish is great, and as I said earlier with the car being solid black I wasnt having to apply loads of contact to get it protected and risk any marring.
As well as the C2 we also coated all exterior glass with G3 on the sides and 3 coats of G1 on the windscreen. Wheels had been sealed while inside using C5, and tyres were dressed using a couple of coats of T1 Tyre and Trim Gel.
The finished car.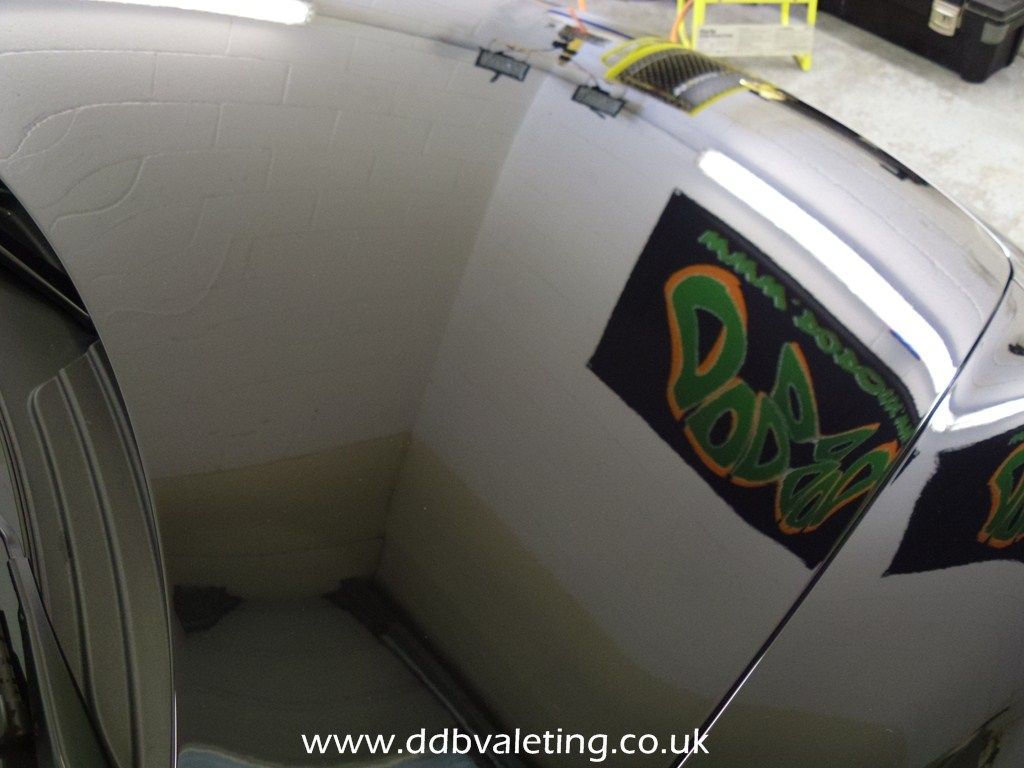 What Porsche detail is complete without this picture???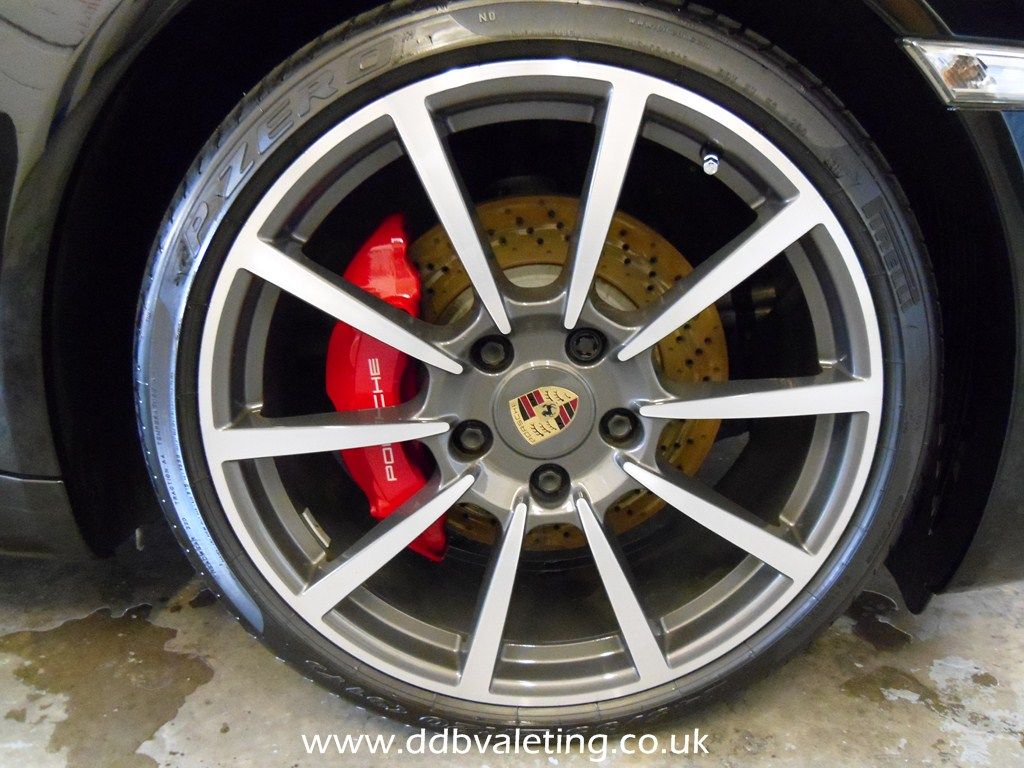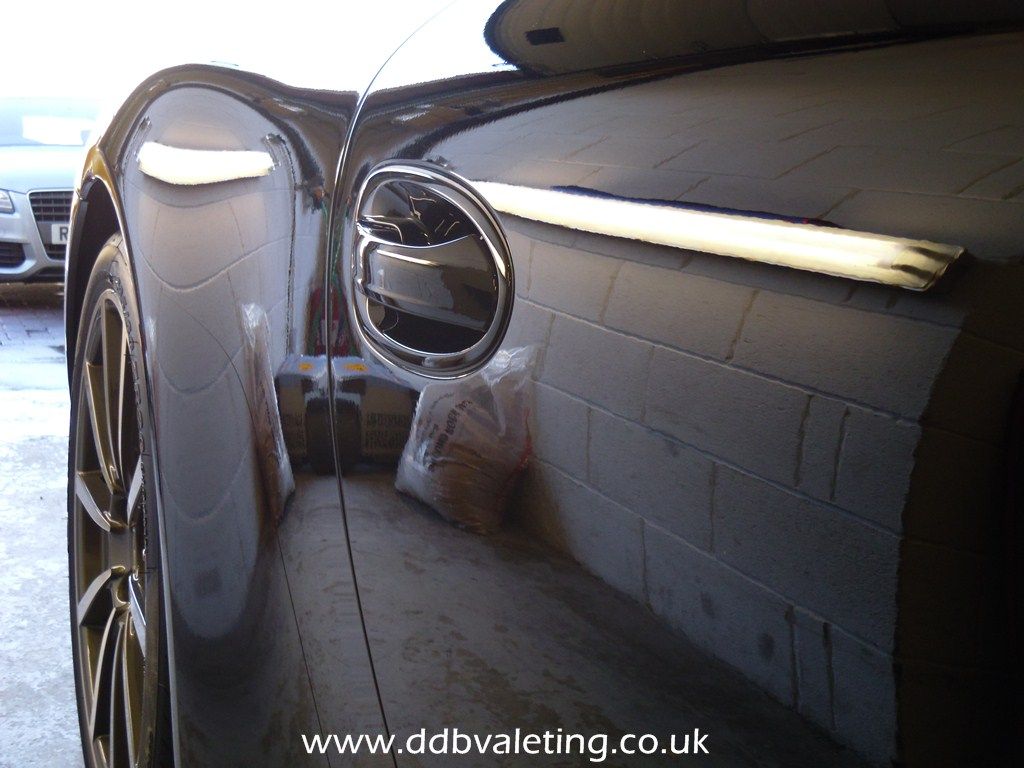 The sun was actually shining prior to the car going back so we managed to get a couple of pics outside as well.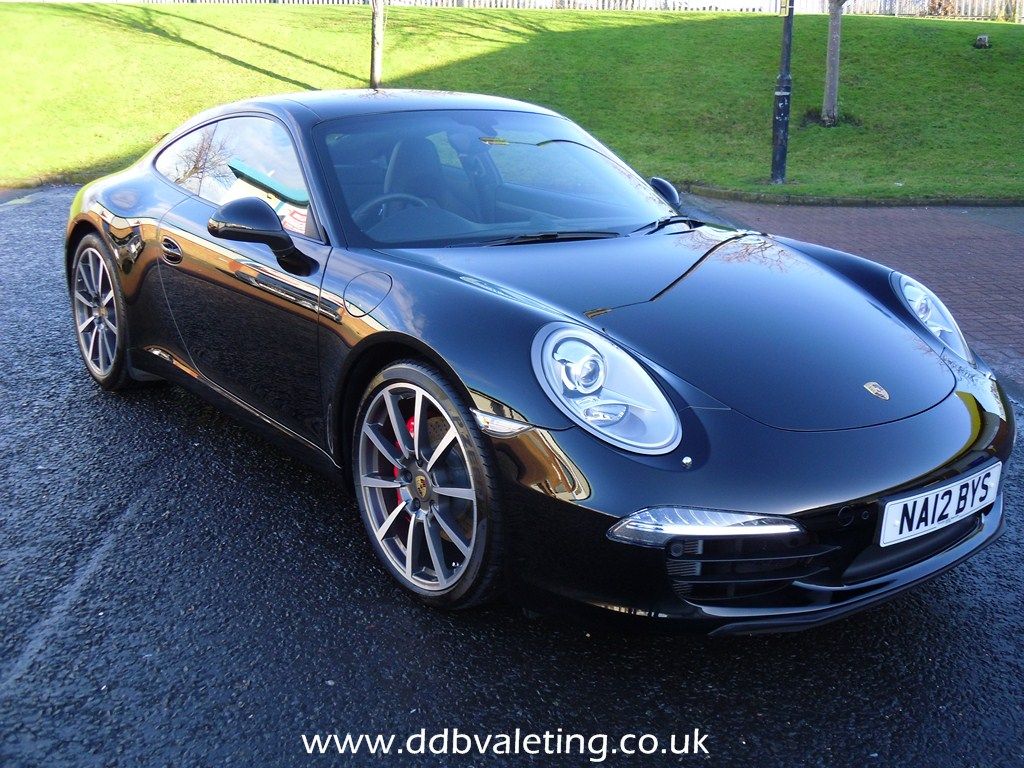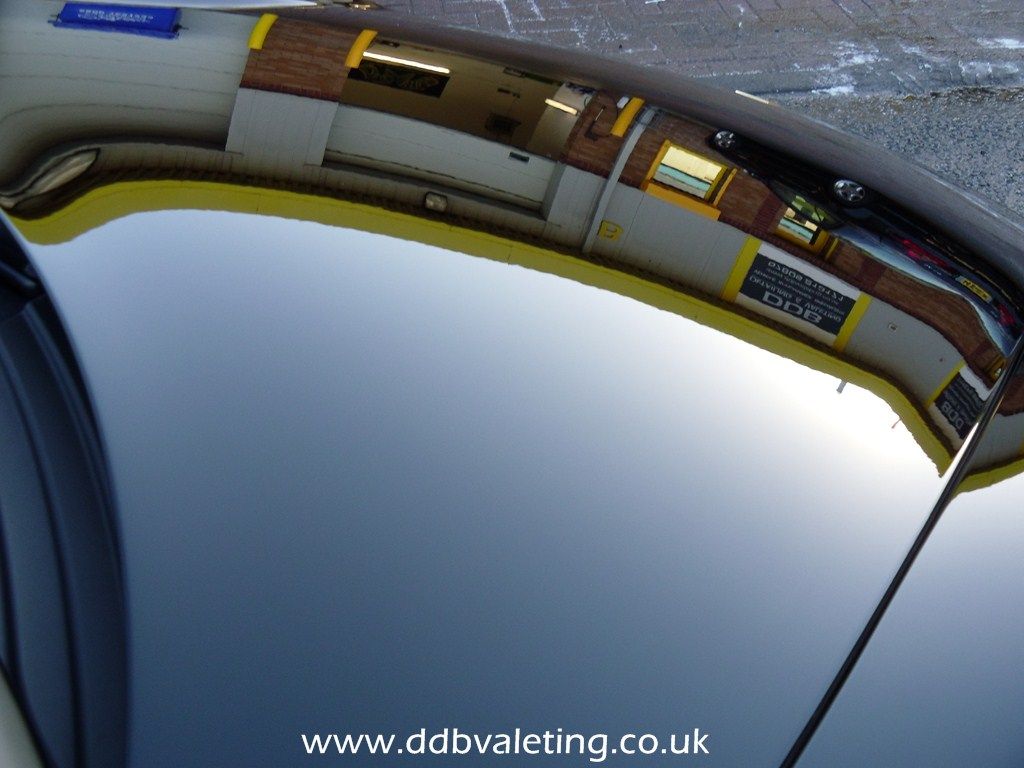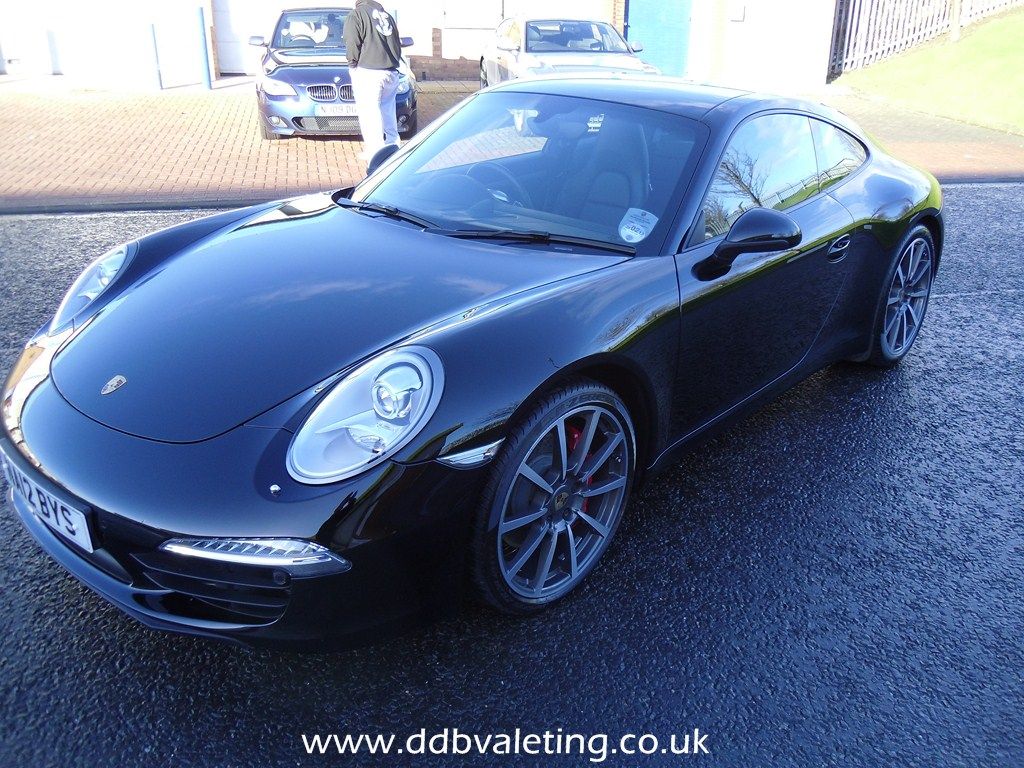 Thanks for reading if you managed to get to the end, as ever all comments are appreciated.