Sticky Fingers, Greasy hands, Grime under your nails messy towels,
uneven application?--No Problem No More.

As anyone will tell you the key to success is to KNOW HOW TO DRESS Well-dressed tires and trim make the car. From the die hard professional to the enthusiast looking to apply the most even coat of dressing to a tire, or a premium coat of trim gel to the trim or even a nice applicator for hard to apply leather seats. the Chemical Guys Tire and Trim applicator is made out of DuraFoam Memory foam to form to form to the surface you are working with for superior application that spread evenly delivering unparalleled results without ever wasting product.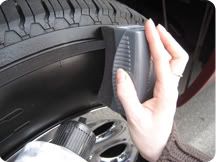 The easy-grip ergonomic shape makes holding his premium applicator a pleasure while the close pored durafoam makes this applicator awesome. The premium ergonomic design also protects your fingers and nails from grease, grime, dirt, and all other crap! Yup we said it crap! And it felt good.
The Tire & Trim Applicator thankfully takes the mess out of the dress. Sturdy, durable foam is securely housed in a palm-sized, rectangular handle with finger grooves to eliminate slippage. This particular grade of foam was selected for smooth, even application without dripping. The design of the applicator makes it easy to control and target specific areas. Achieving good-looking tires have never been easier or cleaner. This applicator also is terrific for attending to your trim.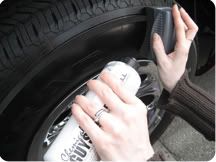 The ergonomically shaped durable aerospace plastic handle that will not break, or become brittle even when left in the sun for weeks. The unique shape allows it to easily and effectively mold itself to the surface applying
Chemical Guys - Trim & Tyre Dressing Applicator Reviews
The following reviews for Chemical Guys - Trim & Tyre Dressing Applicator have been submitted to the site by customers and friends of the site. We think our product reviews are the most authoritative around, because they're from the people who know best - people like you.
Seems to do the job fine, only used once but applied the product to the tire walls just fine.
Review by: Gaz 10/03/2018
This product is ok. It does the job it's meant to do so can't complain.
Review by: Matt Wilkinson 10/11/2016
cheap, and feels it, but does the job. I've found you need to get a lot of product onto it at first before it will get a decent coverage, but once done it works fine. Probably just as easy with a microfibres cloth though. Also needs a box or cover for it in my opinion
Review by: James Hutcheson 10/04/2016
I bought this applicator on recommendation from a friend, i was a bit skeptical about some of the reviews saying it falls apart quickly but i'm pleased to say that it does not. Just a quick heads up, the first time you use the applicator it will soak quite a bit of the product up, but second time i used it it seemed to spread easily and helped provide even coverage. I use with Meguiars Endurance High Gloss Tyre Gel, both superb products.
Review by: Matt B 11/03/2015
excellent tool! made quick work of applying tyre and trim dressing. made it quick and easy work. gave good even coverage and made working the dressing into the surfaces easy, left them looking saturated and shiny. the foam surface does have a few tears in it after using it on 4 cars but for the price it would be to replace I can't complain!
Review by: xAntiVenxm 16/09/2014
Works well if your using this to apply tyre gel. plastic bit allows good grip
Review by: Simon Page 17/05/2014
Good quality applicator, at a great price! Puts tyre gel and liquids on smoothly, and can also be used on exterior trim and bumper inserts/black bumpers if used carefully.
Review by: Chris Gonzalez 07/12/2013
Great item as always from this website however I don't like the fact it has a hard plastic surrounding. Yes this is great for alloy wheels and maybe it is ONLY to be used for that but I wanted to also use this on some black plastic I have on my Leon on the front of the bonnet. When doing this I was very worried that when pressing with the soft sponge into the plastic that the surrounding hard plastic was going to scrape the paint work. I shall only now in the future be using this on the wheels and for that I guess it is OK. I wouldn't go out of my way to buy another one though when this one breaks, or wears out. Thanks.
Review by: Craig Jones 12/08/2013
doesnt seem very solid but it does what it says just depends on how long it lasts but for price its not too bad
Review by: Mark Holden 08/05/2013
Enter Your review here...does an adequate job applying product but quite soon the foam detaches from the handle/grip part and then just has to be thrown away.
Review by: Anonymous 08/03/2013
Overall this product has an average of 4.46 out of 5 based on 26 ratings.
Chemical Guys - Trim & Tyre Dressing Applicator Shipping
Christmas Deliveries
For pre-Christmas despatch please order by 4pm on the 21st of December using the next day courier option. Cut off for Royal Mail 48 tracked is midday Thursday 21stDecember. Our courier DPD are delivering up to Saturday 23rd of December (using the Saturday Delivery Option)
The website will remain open for business as usual through the festive period.
We will re-open for processing orders on Wednesday 27th December to Friday 29th, before closing again until Tuesday the 2nd of January
We offer a number of shipping methods for Chemical Guys - Trim & Tyre Dressing Applicator based on your location and how quickly you want it to be delivered.

UK Mainland Delivery:

You can opt for Standard Delivery or if you're in a rush you can select the Next Day or Saturday delivery option. Next Day applies to orders placed before 3:00pm and will arrive on the next working day (which excludes weekends & bank holidays). Saturday delivery orders must be placed before 3.00pm on the Friday. Some geographical restrictions apply.

Orders over £100 to UK Mainland addersses are available with a Free Delivery option.

Scottish Higlands and Islands & Channel Islands:

We offer a number of shipping options based on weight and size of the overall order. For an accurate quote add the item to your basket and then view the shopping cart where you can get an accurate shipping price based on the weight of the order.

International Delivery:

We do ship internationally, for an accurate quote add the item to your basket and then view the shopping cart where you can get an accurate shipping price based on the weight of the order.